The key metrics you are likely to see presented on journal websites are the Clarivate JCR Impact Factor, Scopus CiteScore and h-index. You may wish, or be required by an employer or funding body, to submit to a journal with one of these metrics.
CLARIVATE WEB OF SCIENCE IMPACT FACTOR
The Impact Factor is derived from citation data held within Clarivate Analytics' Web of Science Core Collection. As of 2019, the Web of Science (account required) contains nearly 23,000 journals, but only 12,600 of these have Impact Factors. These journals are the 9,200 indexed in the Science Citation Index Expanded (SCIE), and the 3,400 indexed in the Social Sciences Citation Index (SSCI).
Clarivate also produce two additional databases of journals which are not given Impact Factors; the Arts & Humanities Citation Index (AHCI) containing 1,800 journals, and the Emerging Sources Citation Index (ESCI) containing 7,800 journals. The ESCI is the most recent addition to the portfolio of databases, and allows Clarivate to acknowledge a greater number of journals that meet good quality editorial standards, but fall below other criteria to have been included in the primary Core Collection.
The Impact Factor is calculated as follows: Number of citations in the Year of Interest divided by the number of articles published in the two previous years. For example, citations in 2018 to papers published in 2016 and 2017.
Example
The 2018 Impact Factor for the journal Food Chemistry is 5.399. The calculation is as follows:
Citations in 2018 to items published in 2016 (10,980) + 2017 (8,760)
Divided by Number of citable items in 2016 (1,920) + 2017 (1,736)
= 5.399
Only certain article types will be counted in this calculation, for example, original research and review articles, but not commentaries or letters to editors; however, the total number of citations to any article type are always counted. This means that wherever a citation is made, whether it is made in a 'citable item' (e.g. a review article) or not (e.g. a letter to an editor), the citation would be counted towards the Impact Factor.
Impact Factors are released annually in the Journal Citation Reports, which can be accessed through Clarivate's InCites platform (account required), a separate product to Web of Science. Many indexed journals share their latest Impact Factor on their homepage, so it will still be possible for you to find the Impact Factor even if you do not have access to this platform.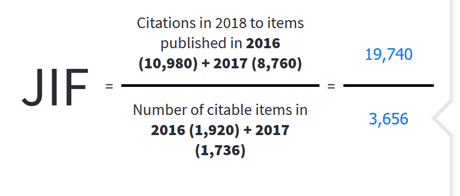 Screenshot from Clarivate InCites of an example Journal Impact Factor (JIF) calculation. https://incites.clarivate.com
ELSEVIER SCOPUS CITE SCORE
Elsevier's Scopus platform hold the bibliometric data used to calculate the Scimago Journal Rank and the CiteScore.
The Scopus Cite Score is calculated in a similar way to the Impact Factor, but includes the most recent three years rather than two (e.g. citations in 2018 to articles published in 2015, 2016, and 2017).
Unlike the Web of Science Impact Factor, Scopus is one large database, and all journals indexed in it receive an SJR and Cite Score.
SCIMAGO JOURNAL RANK
The Scimago Journal Rank, or SJR, is a more complex metric which attempts to balance the number of citations to a journal with the ranking and importance of the journals from where the citations came. The calculation of the final importance, or prestige, of a journal is an iterative process, in which the prestige in the stage i of a journal depends on the prestige of the set of journals in stage i-1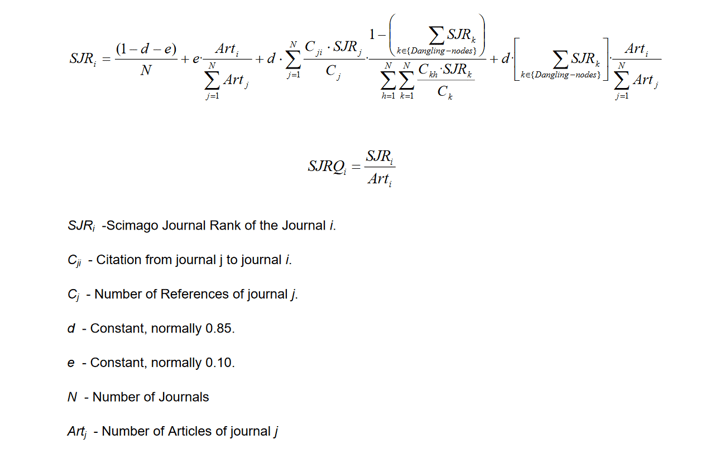 Equation for the Scimago journal rank indicator. Available from https://www.scimagojr.com/SCImagoJournalRank.pdf
SOURCE NORMALISED IMPACT PER PAPER (SNIP)
The SNIP is calculated by CWTS Journal Indicators, and is also based on Scopus data. This metric attempts to balance the data between fields, so that any one SNIP is comparable to another. It balances the citation impact of journal articles and normalises for differences in citation patterns between fields.
This may not be useful for individual researchers in one field, but can provide a less distorted overview for broader scale assessment by universities comparing each of their departments.
Full details on how the SNIP is calculated can be found on the CWTS website, and in the Waltman et al. (2013) Journal of Informetrics paper where the calculation was published and updated.
H-INDEX
The h-index was designed as a researcher-level metric, but has since been adopted by journals, research groups and other bodies. The h-index is the primary metric given to journals and researchers through Google Scholar metrics, though it is presented through other databases and features prominently in the Scimago journal profile.
The h-index is defined as the maximum value of h where the author has published h papers that have each been cited at least h times.
Example
An h-Index of 22 means an author has 22 papers cited 22 or more times
The h-index can grow as citations accumulate, and is therefore related to the experience, productivity, and academic age of a researcher (or journal, or research group, or whichever subject is being defined by the h-Index).